United Arab Emirates Dirham
5.6860
United Arab Emirates Dirham
5.6835
Sell
Buy
24 kt. Gold per gram
1,326.9000
18 kt. Gold per gram
1,002.1000
14 kt. Gold per gram
782.4600
Gold per ounce
41,276.0000
Full Gold Sovereign
8,950.2800
Half Gold Lira
4,488.8700
Quarter Gold Lira
2,244.4300
24 kt. Gold per gram
1,326.6800
18 kt. Gold per gram
1,000.3800
14 kt. Gold per gram
781.1200
Gold per ounce
41,268.9000
Full Gold Sovereign
8,770.4400
Half Gold Lira
4,371.5200
Quarter Gold Lira
2,192.6100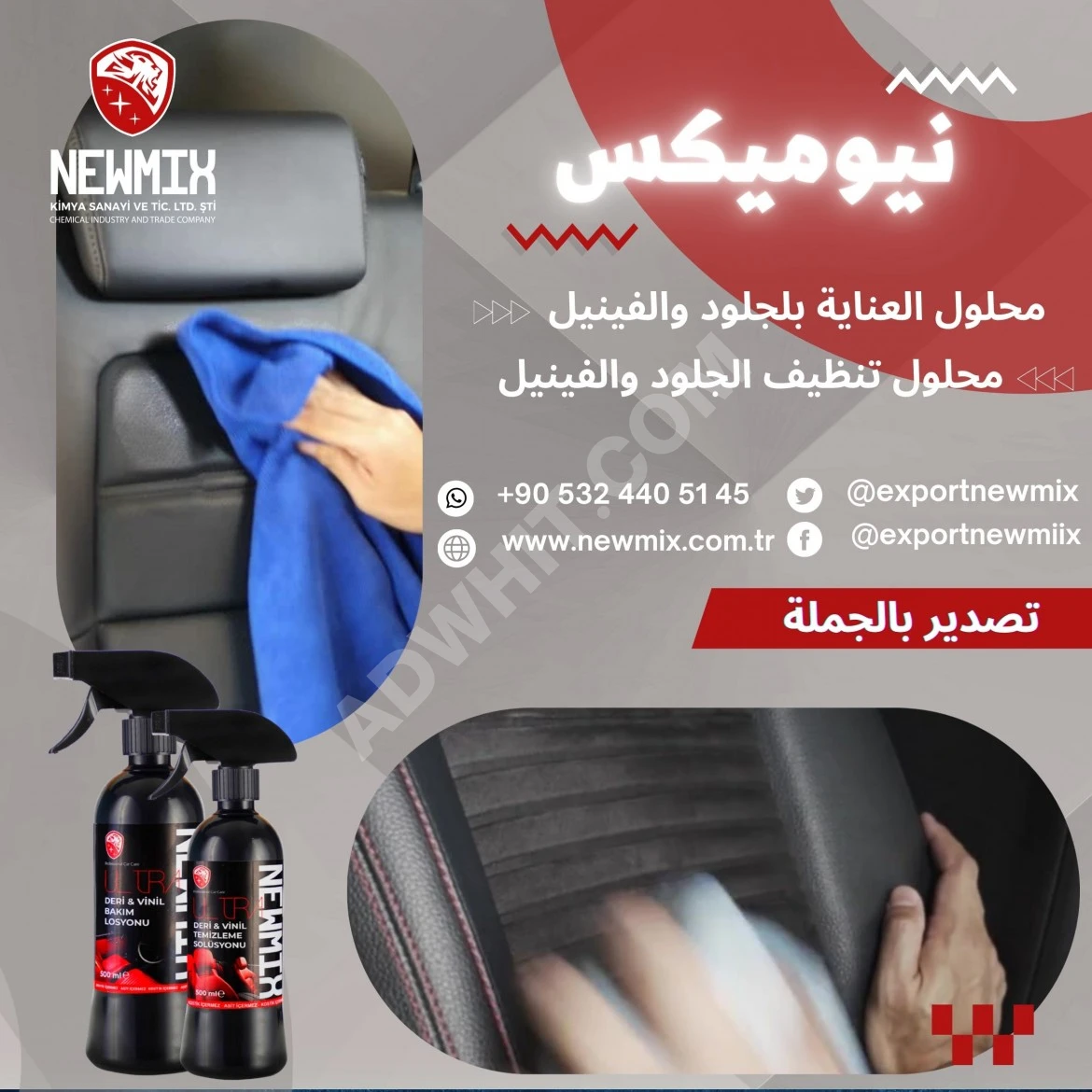 • The best products for the care and cleaning of leather and vinyl! Wholesale
Date of Offer :
01/02/2023
Manufacturer :
نيوميكس للصناعات الكيميائية
Payment Method :
Cash, Bank Remittance, Money Transfer, Commercial Intermediary
Advertiser (Cars) :
Manufacturer
Language of Communication :
Turkish, Arabic
Contact the advertiser directly via WhatsApp
View Video
Newmix Chemical Industries Company
0850 305 77 50
Additional information about the Company
Add your Ad now for free
Pamper your car with Newmix!!
Newmix Chemical Industries offers you...
• The best products for the care and cleaning of leather and vinyl!
  Leather and vinyl cleaning solution
  It can be used on all types of plastic surfaces and surfaces made of leather or vinyl such as
- The tableau
- fenders
Car door edges
without any problems. Restores your car to its original condition
It cleans it effectively.
  Leather and vinyl care solution
  It can be used smoothly on wood surfaces
- the skin
- The Phoenix
It nourishes and softens your leather car seats and furniture, giving them a silky (velvet) sheen and restoring them to their original condition. It prevents harmful growth on
surface and delay the appearance of dust due to its antistatic property
• And more high-quality and effective products from Newmix for Chemical Industries.
• We are ready to send our wholesale products to all regions of Turkey and all over the world.
More offers in Car parts and accessories Ads، buy, Sell، prices
Show more
Latest Offers
Show more