مهندس كهرباء
الإسم :
Khaled SHAKHASHIRO
العنوان :
Mahmudiye mah. - Akdeniz - Mersin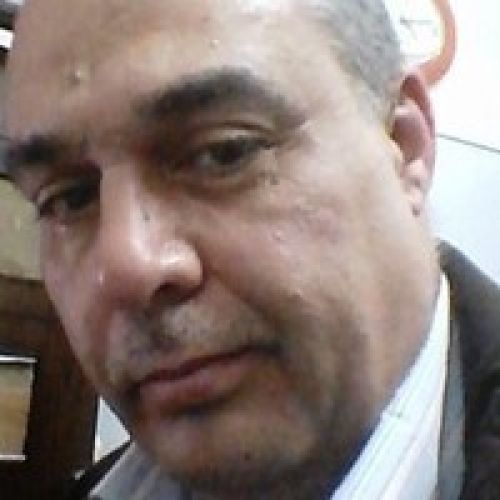 CURRICULUM VITA
- NAME : KHALED SHAKHASHIRO
- DATE OF BIRTH :. April 1961
- NATIONALITY : Turkish/ Syrian
- ADDRESS : Turkey, Mersin , Mobile: 5354748084
- Email : Khaled.shiro@gmail.com
ACADEMIC BACKGROUND
- B.Sc. Elec. Eng. : 1984, AUB MAJOR: Electrical Engineering / Communications & Electronics / Grade Good
Engineering course is five years program.
- LANGUAGES : Arabic Mother language,
English Very good,
French Comprehending
Turkish Fair
COMPUTER EXPERIENCE
OPERATING SYSTEMS:MS-DOS, MS-WINDOWS
SOFTWARE PACKAGES: Norton, Pctools, McAfee, Kaspersky, MS-Windows (3.11, 9X, NT, 2000, XP, Windows 7), MS-Office, Arabic MS-DOS, LAN Smart, VISO 2005, AutoCAD 2007/2016.
HARDWARE: Maintenance of:
COMPAQ PC'S and Servers OLIVETTI, IBM, HYUNDAI, MITAC, Tatung, CAF PC's, and others.
EPSON, STAR, GENICOM, IBM Olivetti, Canon, Printers
MERLIN GERIN, EMERSON, Liebert, Powerware and Boori 4000 UPS systems (different systems and models)
LAN and WAN Network Infra structure, design, realization.
LAN and WAN Networks hardware and software installations.
EXPERIENCE
1984 - 1985: Privet work Electronics repair, (TV, Taprecorders, AVR etc).
1985 - 1987: Executive Communications & Electronics Eng. During military service.
1988 - 1991 : Mechanical & Electronic Service center (OLIVETTI SYSTEMS)

Executive Service Eng. for OLIVETTI PC's and other products.
Laboratory Response, Supervisor for Hardware maintenance.
Assistant Technical Manager.

1991 - 1993 : PUZANT YACOUBIAN & SONS, Response Eng. for Electronics & Computer Service Department.
1993 - 2002: N.S.C.C. Maintenance and Technical Support Manager.
2002- 2006: International Business Center IBC, Assistant technical Mgr., Engineering department , Projects Mgr.
2006- 2012: Safa Modern Hygienic Co., Consultant., Engineering department and projects Mgr.
ACCOMPLISHED PROJECTS
Installation and updating the OLIVETTI M240, M380 PC's and network for the CREDIT POPULAR BANK, and its branches all over SYRIA
Preparing and supervising training courses for maintenance for the technicians at OLIVETTI SYSTEMS CENTER.
Hardware maintenance supervision for the Olivetti equipments at:

Commercial bank of Syria
Central Bank of Syria.
Credit Popular Bank
Treasury Department

Installation of UPS systems for:
ALFURAT OIL Co. at Damascus, Syria.
ICARDA at Aleppo, Syria.
Ministry of health (300kVA unit at ALBAssel Hart Hospital in Dumar, Damascus)
SIEMENCE Branch at Damascus (installation of , 200kVA at Damascus Al-Assad Univercity Hospital, and 80kVA at Aleppo)
Study and installation of the power equipment (Rectifier Systems) of the PDN project
Installation of many other UPS systems (single and parallel systems) several models and sizes.
Study and supervision for realization of LAN's cabling and active components installation for:
UNRWA Damascus, (including fiber backbone).
UNDP Damascus, Syria.
Meriden hotel at Damascus.
ICARDA School at Aleppo.
SYRIAN Petroleum Company at AL Rimelan (Kamishli) and jebeseh (Hasakeh) (including fiber backbone)
Nestlé factory (Khan AL-Sheah) Damascus SYRIA, Nestle offices al over SYRIA.
ELF Derezzor Company (NEW Bldg of DAR Al-saadeh Mezeh) (including fiber backbone)
Techreen University (insulation of fiber backbone)
Al-Assad Academy for Military Engineering (including fiber backbone)
Study the LAN's cabling and active components for:
AFPC new Bldg. at Dummar.
Syrian Nuclear Power Agency
Many other WAN & LAN other projects.
Study and preparation for public tenders :

LAN net work for the ministry of oil
IT Infrastructure for the central Bank of Syria

Study and supervision and installation of electrical cabling and load distribution of deferent size UPS systems at Damascus, Syria.
Study and installation for the DC and AC UPS systems of the PDN project in Syria.
Very Good experience in the battery filed acid maintenance free and vented, Also Nikle/Cadmum
Energy "Solar Renewable Energy Systems"

Istablishing the solar energy department for the IBC.
Study for Iraqi North Oil Company 16 sites.
Istablishing. the Solar water heating project division for IBC.
Istablishing the lighting engineering department for IBC

Conveyor System for Safa Modern Hygienic Co. (design and realization From A-Z)
Solutions for Power Conservation Systems: Heating System using the cooling air of the air compressor systems for Safa Modern Hygienic Co.
Preparing and teaching PC Maintenance Training course and A+ course for Al-Khawarezmi training center at Damascus Syria (2000-2014).
Teaching English language at Al-Khawarezmi training center at Damascus Syria.
HDD repare and Data Recovery (Certigate co. Mgr. 2006-2014).
References
Upon request